Change to results submission
Referees should now submit results via the website, instead of via email. Simply login to My Sunday Soccer and select 'submit result' under referee duties.
| | |
| --- | --- |
| Kick-off | 10 Dec 2017, 9:00pm on pitch |
| Referee | |
| Match sheet generated | 20 May 2019, 1:31am |
Bye

Player
Sex
Goals
No players have been registered for this team.
Man Chest Hair United

Player
Sex
Goals this match
Goals this season
Aaron Fitzgerald
M
Alexander McNair
M
1
Alyssa Waters
F
1
Amber Perry
F
1
Brad Waters
M
2
Brooke Barling (CAPTAIN)
F
Eleanor Paynter
F
Goran Torlak
M
2
Jamie Kaiser
M
2
Jonathan Mathe
M
Laura Trobbiani
F
Louis Lau
M
1
Matt Boyce
M
Rhiannon Westhorp-Janz
F
Robin County-Black
M
Stuart Bryson
M
3
Please note that goals scored by eligible 'ring-in' players from other teams count towards the score but are not added to the player's goal tally and will not appear on this match card.
Rule cheat sheet
Record scores, scorers (first name and surname) and incidents) and incidents and submit by logging in to My Sunday Soccer by midday on Monday.
Social soccer = no slide tackles, no tackles from behind, no pushing, no barging, no raised arms, no holding players off with arms, no intimidation, no dissent (to referee or players), no complaining, no worries
Match duration is 2 x 25-minutes (5-minute half-time)
Format is 7-a-side with maximum of 4 male players playing at any time
The home team (first listed) kicks-off
A team must comprise of at least 5 of their registered players for a result to stand (friendly can still be played)
Teams can use up to 2 ring-ins from other Sunday Soccer League teams to make up numbers
If conduct is inappropriate, the referee should (1) warn the player, (2) sin-bin the player for 5-minutes
If conduct merits it, a player should be sent off by the referee
There is no off-side or back-pass rule
For penalty kicks if the keeper is female, the penalty must be taken by another female player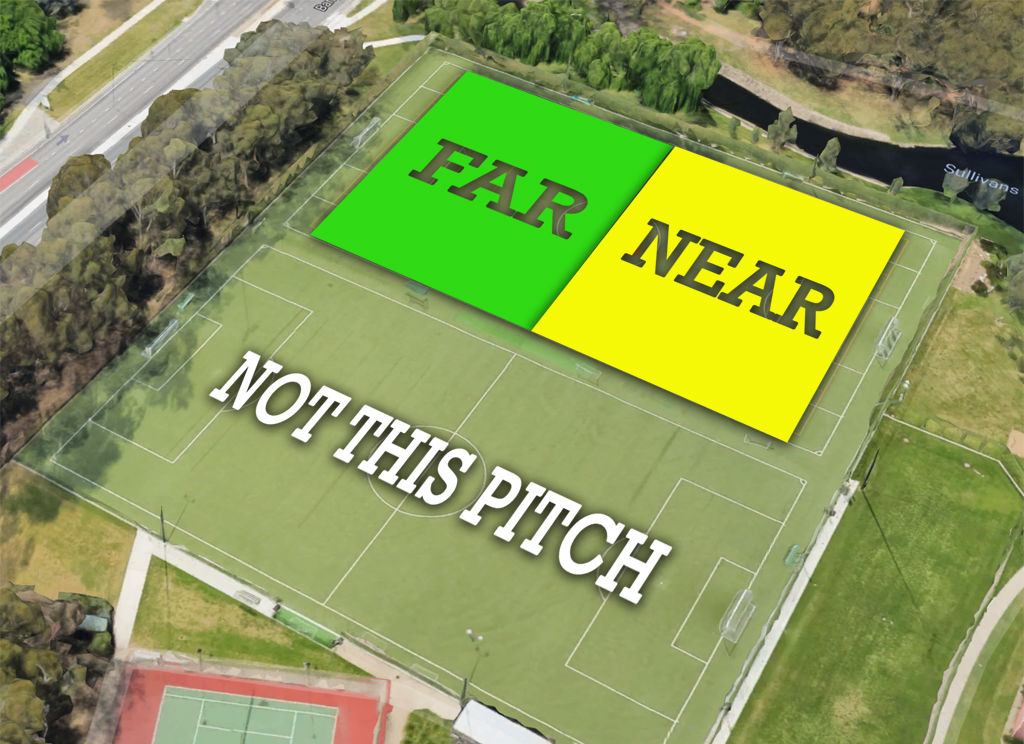 Map credit: Google Maps